THERMAL RELAY PAGE1 PAGE2

APPLICATION
3UA series thermal relay is suitable for using in power system with AC 50Hz, rated operation voltage up to 660V and 1000V, in main circuit, current from 0.1A to 630A. It is used to protect AC three-phase asynchronous motor against overload and open-phase.
The relays have the test push-button for breaking NC contacts and the operating and free trip characteristics the products also can be supplied with protecting case to ensure safety the products can plug in the contactor and install independently or mount by rail.
TECHNICAL SPECIFICATION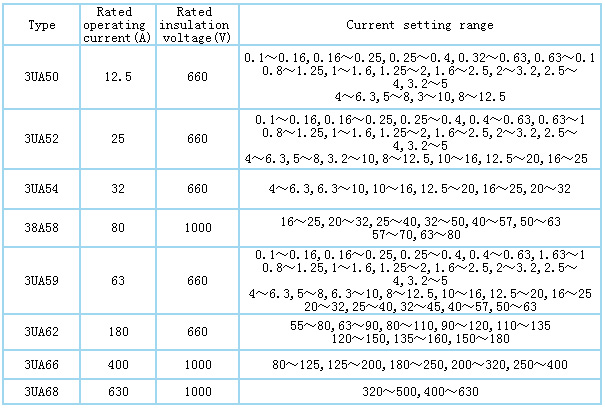 ¡¡

APPLICATION
The relay is suitable for using in the power circuits up to rated voltage 660V rated current 500A 50Hz or 60Hz for overload and loss of phase protection or three phase induction motor and often combined with B series AC contactor into magnetic starter, T16 & T25 thermal relays have a friction trip operating mechanism with loss of phase running protection, pullback spring trip operating mechanism (jump mechanism) with loss of phase protection for T85 & TSA45, back jump mechanism for T170 & T105, main circuit with instrument transformer jump mechanism with loss of phase for T250 & T370.
TECHNICAL SPECIFICATION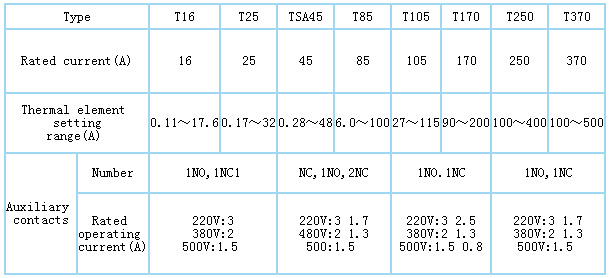 ¡¡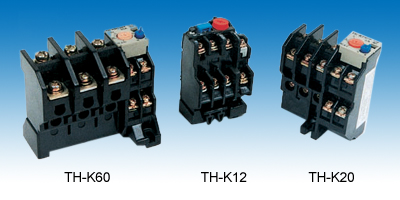 APPLICATION
The thermal overload relays are suitable for overload protection of AC motor operated on 8-hours duty or uninterrupted duty.
The overload protected AC motor with frequency 50Hz, voltage up to 660V, current up to 40A.
Several functions provided by these relays are phase-failure protection, temperature compensation, ON/OFF indication and manual/automatic reset; the relays comply with IEC292-1 standard.
TECHNICAL SPECIFICATION


THERMAL RELAY PAGE1 PAGE2